Tehnical description should present you a picture about tehnical characteristics of prefabricated houses Eco Green House, and to please your questions. With this part you will understand characteristics of the materials which are installed, you will have much better view in construction technology of prefabricated houses. Quality of thermal insulation is necessary, on what you influence by choosing the type of material to be installed.
If you decide to buy one of ours prefabricated houses, special attention should be paid to the types of walls that are setting up. With good choice and ideal combination, more economical heating of the living space is achieved, which you will achieve by choosing  the thickens of thermal insulation in the floor and ceiling.
Please note that by choosing the "thinnest" type of wall – Type B, absolutely all the conditions of energy efficiency are met, so that the prefabricated house Eco Green House in that case received an energy passport with B class of energy efficiency.
Cross section of the wall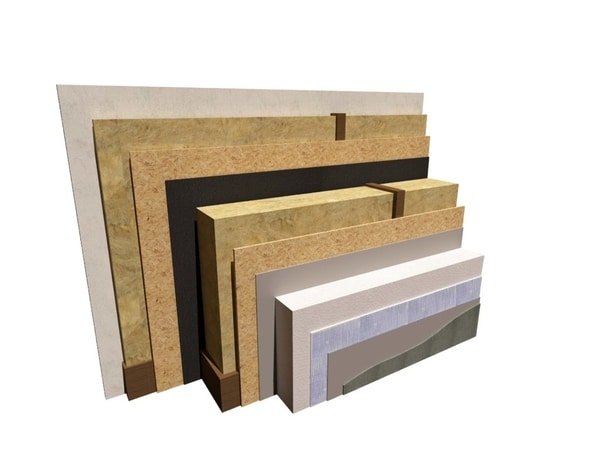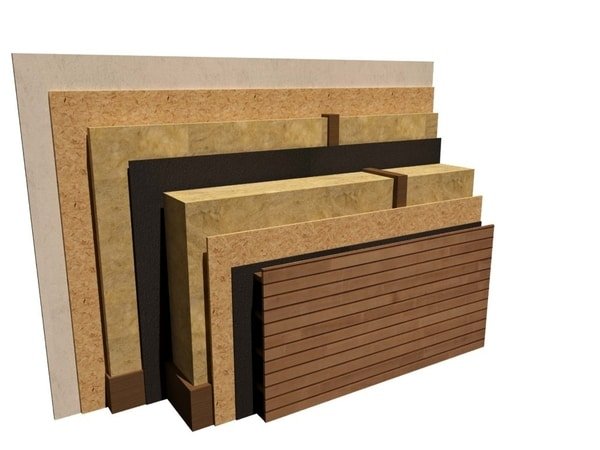 1. Gypsum cardboard
2. Wooden substructure
3. Stone wall
4. OSB boards
5. PVC foil – vapor barrier
6. Wooden wall construction filled with stone wool
7. OSB boards
8. Facade adhesive for expanded polystyrene (styrofoam)
9. Expanded polystyrene (styrofoam)
10. Facade adhesive mesh
11. Facade adhesive
12. Decorative facade plaster (acrylic or silicate)
2x12mm

50mm

50mm

11mm

0.2mm

140-220mm

11mm

2mm

2mm

2mm

2mm

2mm
1. Gypsum cardboard
2. Wooden substructure
3. Stone wall
4. OSB boards
5. PVC foil – vapor barrier
6. Wooden wall construction filled with stone wool
7. Farmacell boards
8. Waterproof membrane "EPDM" (waterproofing)
9. Wooden substructure
10. Wooden facade
1x12.5mm

11mm

50mm

50mm

0.2mm

140-220mm

11mm



50mm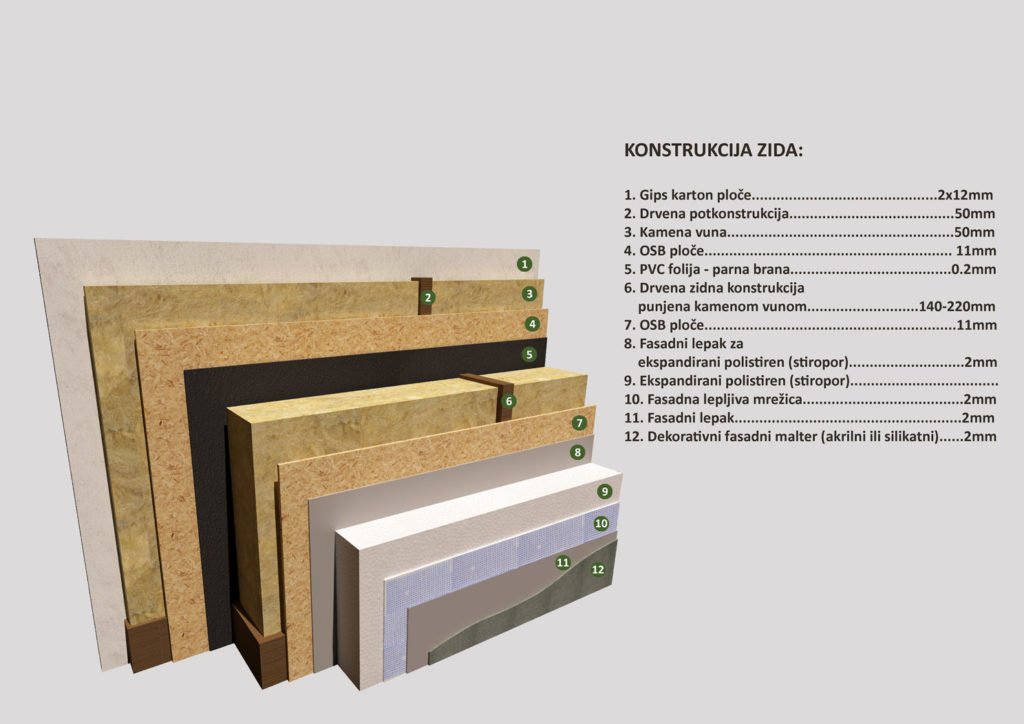 The design is done in modular system with the size of the module 120cm to 1200 cm and by applying typical petty and large panel elements.
Specially attention was paid to ensuring that the construction satisfies its functionality, climatic conditions and necessary comfort as well as aesthetic characteristics, and all that based on request of design assignment obtained by the investors.
The advantage of this type of construction over the classical one is:
Quick assembly
Brzo vreme do useljenja
No need to dry the walls
Coefficient c=0,35W/m2 K (Institute IMS – Belgrade) or facade wall is the equivalent of a solid brick wall over 160m thick
Bigger usable area unlike of classical construction by about 10% for the same external measures ( difference in thicknes of the walls )
Energy saving up to 50% because of superior thermal insulation
Fire resistance F=60mm (IMS – Belgrade)
Simple maintenance
Better resistance on earthquake
Affordable price
Ecological materials – healthier and easier for living
Building that you choose also includes one chimney with a cross section of 16 cm (single channel). Chimney masonry is done after assembling  of other wall elements and it is built of solid brick in extension mortar. The chimney is supplied with a cleaning door and oven connection. The plinth walls are plastered with cement mortar. On the outside, the chimney is plastered the entire height and ends with a concrete cap.
Modular dimensions of constructions of wall elements are 120×260 and 60×260 cm.
Elements can be external and internal, also full or with built-in windows and doors. It is clear that it depends of location within the facility. Construction of element is wooden frame d=100mm (made of healthy dried white wood). The intermediate pillars in the panel are placed on 40cm.  Elements are built in the workshop and then transported to the construction site.
Between double-sided linings(), that is, in wooden frame is placed mineral wool, which has a function of sound and thermal insulation. For external elements mineral wool is used with dimensions d=100mm, and for internal with d=80mm.
Bonding of OSB board cladding to the frame is carried out with 5×50 screws or nails E31/70 with a twisted or serrated body. Using beams, coving strips and wooden wall pieces it is made the assembly of wall elements  and their combining into a whole. Beams are previously treated with bitulit coating and are anchored for plinth walls.
After the assembly of the building, isotherm lining d=80mm for the façade walls is fitted. Drywalls (d=9,5mm) serve to line interior walls, and elements for sanitary facilities are being lined in waterproof drywalls (d=12,5mm). During the production of elements, plastic hoses for electrical installation and electrical boxes are being fitted.
The carpentry is made from the highest quality five-chamber PVC profile, resistant to environmental influences, made according to world standards. According to the request of the users of apartment rooms, the sizes and dimensions of the openings are determined.  Installation is performed on the construction site after covering the building.
Windows and balcony door, whose construction is made by installing in wall elements (by making in a workshop or in the field), can be singlewing, one sided and double. The possibility of their opening is along the vertical and horizontal axes with the help of quality edge closures. Windows 60/60cm open using a swivel tilt fitting. Front door (d  95/225) are PVC single wing full or half winged glassed, without superlight, secured with secure lock / with cylinder. Interior doors (d. 90/205,80/205 and 70/205 cm) are made of double layer plywood as well as kraft master construction, full or semi-glass. Interior doors aren't secured with secure lock, they are equipped with plain locks.
Joinery glazing is possible with double thermal insulation glass, filled with argon, 4+12+4mm.  In agreement with the customer, any type of glass can be install.
For your better and easier life, we must take care of good joinery sealing, in order to achieve the best energy savings. Also using the help of our expert you get useful advice related to the planned opening of the room, in order to save energy as efficiently as possible.
Roof construction is being made out of mesh roof holders whose are made of dried white wood I/II class, all in accordance with the structural analysis. The production of roof holders is done in workshopks, and they are made on the principle of a lattice with two-part belts and one-part and three-part rods. To achieve stability and safety of the roof and the whole building, roof holders are interconnected by roof boarding in roof level, by ceiling boards at the ceiling level and vertical bracing. For providing ventilation beneath the roofing, we are laying down tar paper, longitudinal and traverse profiles 30/48mm. Special nails are used to connect the connections of the roof construction.
The cornice of the roof is lined with planed planks, and calcaneus with OSB board d=15m. The soffits are covered with profiled board paneling. They can also be mase over OSB panels on the principle of demit facade.
CONSTRUCTION OF THE CEILING
Eco Green House also pays special attention on construction of the ceiling. Parts of construction of the ceiling are: the capping beams, insulation material as well as ceiling boarding. Under lower belts of ceiling joints, capping beams made out of dried white wood (d. 48x38mm) is assembled. Over capping beams PVC foil is placed in the form of a steam dam and after that ceiling board as drywall. Next is pressed mineral wool (d=150mm) as thermal insulation.
Very high quality and recommended planed dried white wood accompanies the entire project and production.
As we already noted in the section joinery, glazing is made of double thermal insulation glass, which is filled with argon (d= 4+12+4 mm). If the client wants, any type of glass can be made.
Gutters of standard cross-section are installed on the facility. They are made of galvanized sheet metal d=0,55mm. Roof apron flasing, chimney, barge board is being done, also of galvanized sheet metal, same dimensions.
The materials for making are of quality, reliable and safe production and it is planned that floors of glazed ceramic tiles will be made in the sanitary rooms, pantry and kitchen. In other rooms (living room, entrance hall, rooms) laminate is made d=7mm. Entrance and entrance stairs are covered with non-glazed ceramic tiles.
Works of interior surface are done in two coats using dispersion paints. The treatment is on walls and ceilings. The choice of shades before getting  the necessary materials on the construction site is done by the designer.
If there are important irregularities on the surfaces, it is necessary to do plastering before any work.
Interior doors are painted with sadolin, and walls of sanitary facilities are covered with ceramic tiles. In the kitchen ceramic tiles are placed to a certain height (160cm), and above is painted with white dispersion paint.
EXTERNAL WORKS
Sadolin paints the entire outside surface of the wood and facade joinery. With plastic grated façade external surfaces of the isotherm are treated. As well as for interior surfaces, the choice of shades is done by designer.
Sadolin paints the entire outside surface of the wood and façade joinery. With plastic grated facade external surfaces of the isotherm are treated. As well as for interior surfaces, the choice of shades is done by designer.
Water supply and sewerage
The project anticipates installation of water supply and sewerage. The installation of the water supply system is done with hydraulic pipes that are connected to the internal reinforcements on the walls. Sewage installations are done with appropriate PVC pipes 1m from the building.
The sanitary is white and includes elements based on the construction project.
The project, based on certain regulations for prefabricated buildings, anticipates the installation of electrical installations. Installation is performed using PGP cables. The cables must be installed in the walls and then routed above the ceiling. Installation is done with a lead from the roof holders or cassette on the wall.
Light bulbs are used for room lighting and, depending on the purpose of the room, they can be of a certain capacity. The installation of RO with a measuring group is also anticipated, and ZUDS serves as an additional protective measure.